Subscribe
How to Maximize Reimbursement with Contract Management Analytics
According to the American Hospital Association, the financial impact to hospitals from COVID 19 has been about $200 billion over the last four months, or about $50 billion a month.
With revenue so tight right now, reimbursement is more important now than ever. We know payers generate reimbursement variances, that's a given.
But these variances, whether they're denials, contractual underpayments, short-pays, no-pays, etc., often start due to breakdowns in various revenue cycle areas.
These breakdowns can often be linked back to people, processes, technology and/or data.
For example, Medical Necessity denials and/or contractual underpayments could be due to any one or combination of these four areas.
Denials related to coding could also be a staffing issue. Ask yourself "are the right people in place"; or if additional training is needed, there may be a process breakdown within your organization.
Or for another example of a process breakdown example, ask yourselves "How effectively are you keeping up with payer contractual update such as the traditional quarterly changes with Medicare Advantage plans, or more recently authorization waivers or telemedicine reimbursement adjustments over the past few months."
As you are assessing where denial variances are occurring, it's important to remember that at the end of the day, the prioritization process should start with an understanding of the impact on net reimbursement.
In fact, reimbursement variances often occur at a rate of 7% - 12% of all claims and after the rebilling and appeal process. This translates bottom-line impact of 1% - 2% with contractual variances and a 2 – 3% impact with denials.
The good news is a high percentage (67% according to HFMA) of denials are appealable and a significant amount (often reported as 70%-plus) are preventable. It is also important to note that the average cost to rework a claim is $25.00.
Process Maturity for Identifying Reimbursement Variances
Process Maturity, as defined by Six Sigma, is outlined over five steps/levels.
Every hospital should have a Reimbursement Variance process in place for the first three components. Some organizations have these steps in place for just Denial Management, but they really should be in place for all variances.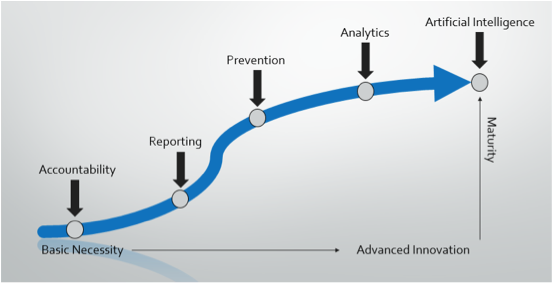 Using Six-Sigma terminology shows that your organization or health system have a documented process set in place for all reimbursement variances.
Accountability: This is the baseline data gathering and workflow process. This starts with the categorization of denial codes and contractual variances.
For denials, this includes grouping the CAS codes to Denial Reason and Categories such as Registration, Authorization/Pre-Cert, Medical Necessity, Missing Data, Medical Document Requested, Coordination of Benefits, etc.
For contractual variances, this includes, add-on reimbursement items, stop-loss provisions, multi-proc discounting, paid of prior rate schedules, etc.
As it relates to work-flow, it moves on to Routing and User Assignment, Worklists and access to the Detail Denial or Contractual data. This component may be in place with your patient accounting system, spreadsheets, denial and/or contract management tools and/or 835 data aggregation tools.
Reporting: This is the basic access to the data.
At this level, there are typically standard reports that provide a baseline operational insight for accountability. Report examples could include Reimbursement Variances By Payer, Variances by Category, Variances by Code, etc.
Prevention: This is the overall goal of eliminating or resolving the issue.
This includes implementing system or process changes such as using a Denial Category or Denial Code reporting to drive changes in the EMR / HIS. The combination of reporting and analytics are the real catalyst or drivers of process improvement.
One thing to keep in mind that prevention is described as the middle step or level on this maturity matrix but correcting and reversing the denial or contractual is what creates more immediate cash flow.
Reimbursement variance recovery is a component of this level. If payer payment rules, coding requirements and patients stayed with the same payer with the same benefit plan forever, prevention would likely mean completely eliminating the problem.
Unfortunately these items are dynamic, meaning that we may not know what to prevent until something of value is denied—such as, the appeal is a part of the prevention step in that we still want to be paid for the provided services.
Another way to think about analytics is the concept of Root Cause Analysis.
Reporting provides quantitative insight whereas analytics should provide a quantitative as well as a qualitative assessment such as:
The most common denials
How much of an impact are the denials or contractuals having to net patient revenue
The reasons for the denial.
The two work together as drivers but the incorporation of benchmarks, and constant feedback loops is what separates analytics from reporting.
With Reimbursement Variances often occurring at a rate of 7% - 12% of all claims and after the rebilling and appeal process, it translating to 2 – 4% bottom line impact, this type of error rate is truly more unsustainable than ever before.
To accomplish real improvement, measurements against benchmarks are critical.
After all, without measurements, we don't know if improvements are being made and we don't learn or know what is meaningful.
Reimbursement management analytics should be built on the foundation of Performance Measurements. In the simplest form, it is an aggregation of 835 transaction sets, but more broadly, denial and contractual data analysis should include additional information such as the expected reimbursement to understand the impact on net patient revenue.
For example, many hospitals report denials using total charges.
However, this often prevents you from effectively prioritizing your denials and driving cash in the door.
Just because a Medicare account has a $10,000 denied charge, it doesn't mean it is more valuable that a BCBS account with a $5,000 denied charge.
We have to constantly remind ourselves that Performance Measurement is a continuous process that involves checking the performance against a determined standard or target.
When an external standard is not available or may not seem applicable to you, an analysis of your historical data can be used to establish a target. The critical point is to establish your targets.
Benefits of Data Visualization
So with current Reimbursement variance rate of 7% - 12% occurring with all claims and after the rebilling and appeal process, denials and contractuals continue to be a challenge.
One way to help move the process forward to the next level of Analytics is Data Visualization.
Using real-time data visualization, managers can view the latest figures and see the current overall account activity and denial code volume and respond more quickly to a potential growing issues.
For example, a static denial report may inform a manager that the overall denial rate with a payer is up for a particular month. However, it won't inform them on why they are up.
Visualization with drill down ability allows the user to quick assess and determine the root-cause allowing staff to be adjusted to address a volume increase mid-month.
This type of analysis requires some baseline principles including starting the data capture process with accurate and detail underlying data. Summary data will limit your ability to drill-down to the real insightful level.
In fact, according to an interesting survey by the Aberdeen Group, it found that managers in organizations that use visual data discovery tools are more likely to find relevant information compared to those who rely only on traditional management dashboards & reporting.
It should also be noted that manager at organizations that use visual data analytical tools are 3 times more likely to comment and share a report or chart.
With denial and reimbursement variance management, this helps facilitate a collaborative organizational effort when dealing with net revenue improvements.
So with net revenue truly being the bottom-line (no pun intended), contract governance really is the foundation for reimbursement variance analysis. What will this look like for your inpatient contract rates?
Accurate reimbursement variance analysis should always start accurate calculations. But what should that look like in terms of data visualization?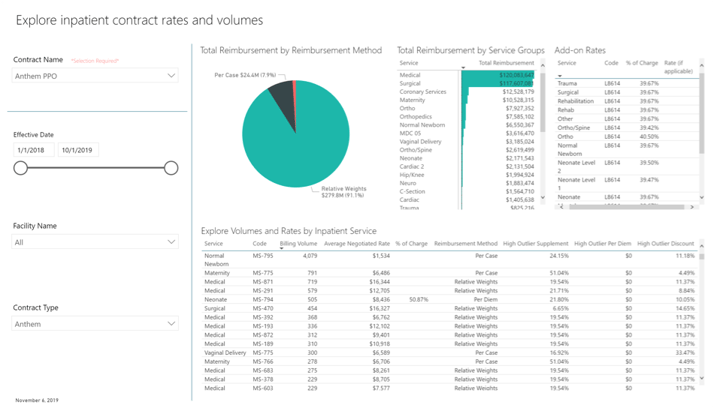 Here is a good example of a basic Anthem PPO contract.
A user can quickly see the reimbursement by contractual methodology, by service line, add-on reimbursement item and actual volume by each for Inpatient Services.
This is also a great example of what the industry is grappling as it relates to the upcoming Price Transparency mandate requirement scheduled for 1/1/2021.
In the final rules, CMS outlines the mandate requires hospitals to post their baseline rate schedules for all payers and all plans. Their assumption is all hospitals have tools that can easily and quickly produce this type of information.
Unfortunately, many hospitals still bill charges and allow the payer to compute the payer allowable which leads to variances.
If the mandate holds up, the right data analytics platform will help lead you to a more efficient Contract Governance process and an easier process for staying compliant with Price Transparency requirements.
Overcoming Challenges with Reimbursement Variances
We know that every hospital faces challenges with underpayments and denials, so let's walk through some common examples of revenue variances.
Again, the combination of reporting and analytics are the real catalysts of process improvement.
This high level dashboard allows you to gain executive insight into your hospitals improvements. To accomplish these improvements, benchmarks are critical.
Without these measurements, we won't know what is meaningful and we all know how meaningful AR opportunity is.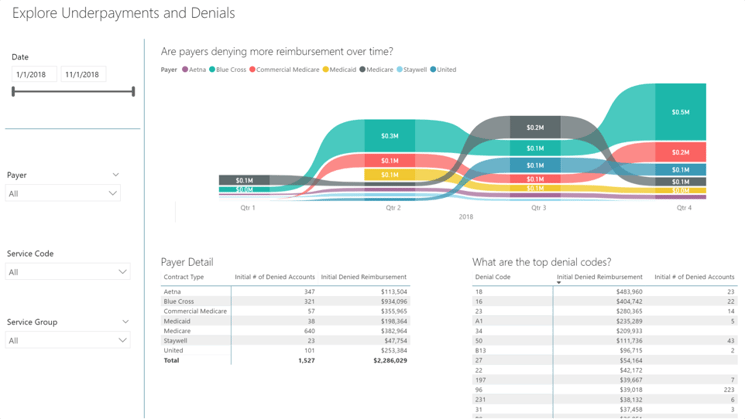 Digging a little deeper into the opportunities component, we have an example of a payer scorecard.
This scorecard allows you to see which payers have the greatest opportunity in comparison to which payers have the greatest charge volume. As you can see in the example, Medicare has the highest charge volume but is not the top payer with the greatest opportunity.
Effectively prioritizing your denial/underpayment opportunities will drive cash in the door.
A high amount of denials are appealable and a significant amount of them are preventable, however.
Utilizing data and visual analytics, you can see over time if payers are denying more reimbursement. This also gives you the ability to review payer detail and top denial codes.
Are there clinical factors that need to be addressed? Is this a front-end authorization issue?
This information allows you to explore the root cause, resolve the issue and prevent it, going forward.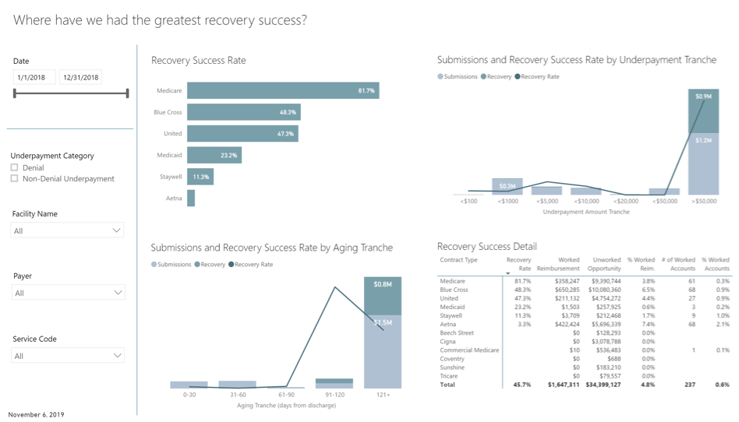 Now that we've reviewed how to locate the payer opportunity, let's review where we recover the greatest underpayment amounts.
In this example here, you have a very helpful data visualization of where your collections come from. It allows you to distinguish between denial recovery vs non-denial recovery.
By facility—do you have one facility that is outperforming the rest or one that may need additional resources or attention?
By payer—which payers account for the majority of your revenue and is that what you expected?
By auditor—who is your top collector and who may need additional training? What tips can your top collectors offer to your bottom collectors?
As a manager, to be able to view this data allows me to be able to respond more quickly to a potential growing issue.
Now taking that one step further, the next questions becomes "how can we identify issues and use analytics to improve our recovery process?"
This recovery analytics report presents recovery success rates in various ways.
For example, you can see which payer you have the greatest recovery success with, which underpayment tranches you're most successful with and even break that down to which procedure codes and even which denial codes am I most successful with. And, then use this insight to optimize your payer recovery processes.
How to Manage your Collector's Performance
With all this extra work, how can we best manage collector's workloads?
We start with an optimized documented workflow process utilizing reporting and analytics.
We all know how tedious healthcare can be and how important bringing in the revenue is. Having an optimized and efficient workflow process is key for improvement.
The examples below shows two collector work queues. It's simple yet effective. This collector knows the number of accounts in their work queue, their work queue balance, their average day's age, and average balance.
Example 1: What is in my work queue?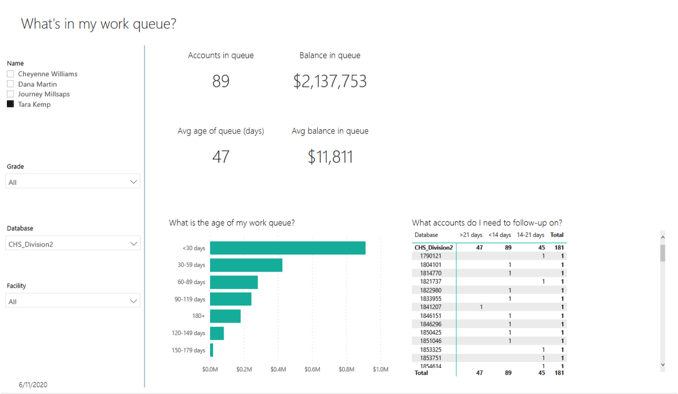 Example 2: How does my payer's performance compare?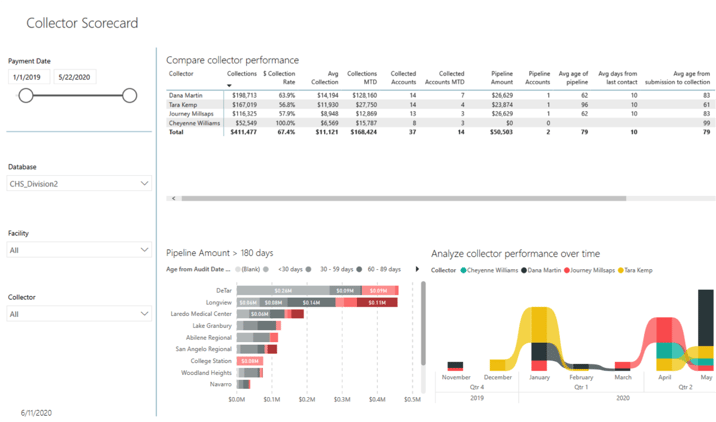 There is a visual representation of how much money is in each aging bucket and a list of accounts they need to follow-up on for the day. We want to utilize analytics and visual representation so there is no guessing in what needs/should be worked and when.
Along with the collector work queue, it's helpful to utilize a scorecard that helps to measure and compare performance by collector. This can enable an organization to easily identify their top performers or those that may need additional assistance.
This data visualization tool provides an ideal way to incorporate performance measurements and enable users to view and understand their performance.
---
Hospitals Need a Contract Management Strategy
When all is said and done, the key point to remember is that contract management is only going to get more complex.
Payers contracts have gotten larger and managing them on a consistent level will become even more challenging, which means implementing the right analytical tools to meet the current and future challenges has never been more important to your organization's bottom line. Don't wait until its too late to develop your contract management strategy.
Learn how PMMC can help with your hospital's contract management strategy today!