healthcare revenue cycle, revenue cycle blog, revenue cycle tips, revenue cycle information
PMMC Healthcare Revenue Cycle Blog
Stay up to date on best practices for healthcare revenue cycle management with PMMC's blog.
We would like to congratulate April Miller, Director of Contracting and Payor Relations at PMHA, as PMMC's Star of the Month!
We would like to congratulate Sheila Morris, Revenue Cycle Director at Shepherd Center as PMMC's Star of the Month!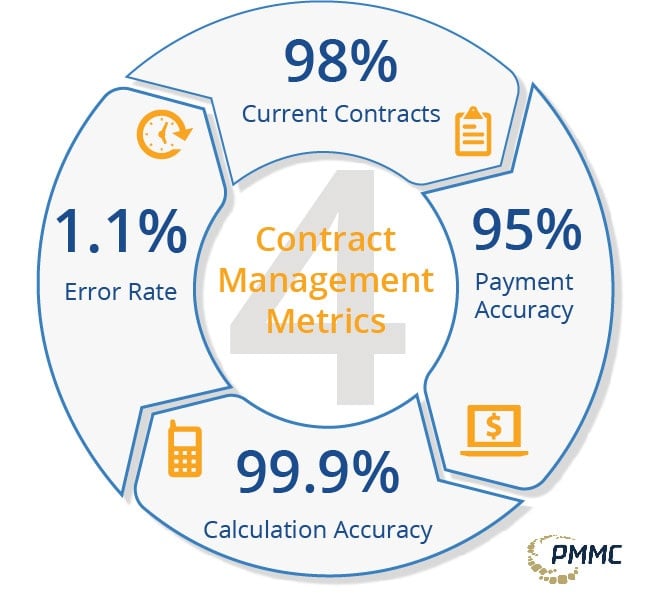 Key Metrics for Contract Management
The proper use of healthcare contract management software can make a difference of 2-3 percent net revenue. Thus, the proper use of a contract management system should be considered "mission critical," from a financial perspective, but it often does not receive the attention it deserves. This whitepaper explains how applying metrics to healthcare contract management helps assure all accounts receive appropriate attention, thus ensuring revenue integrity.
We would like to congratulate Sylvia Palomo,Payer Compliance Manager, Managed Care Contracting at Texas Children's Hospital as PMMC's Star of the Month!
We would like to congratulate Mary Bongiornio, Director of Admission and Financial Clearance at MetroHealth as PMMC's Star of the Month for January!
We would like to congratulate Gina Aiello, Chargemaster Specialist at Saratoga Hospital as PMMC's Star of the Month for November!
contract modeling | revenue cycle analytics
Insurers are swimming in data that gives them a steady stream of insights into their markets and the healthcare providers with whom they contract. Unfortunately, most providers don't have access to the same level of business intelligence. That lack of reliable information on payer performance puts healthcare organizations at a disadvantage.
The Chargemaster (CDM) review is one of the most important initiatives for a hospital prior to the new fiscal year and requires a balancing act between price transparency demands and net revenue impact. It's a huge undertaking and if you manage the Chargemaster at your hospital, your team is likely small with limited resources. This action plan is designed to help guide the way and ensure your next Chargemaster review is successful!
According to the American Hospital Association, the financial impact to hospitals from COVID 19 has been about $200 billion over the last four months, or about $50 billion a month.
It's no secret that negotiating payer contracts has always been a challenge for healthcare providers. With the recent shift toward consumerism, changing patient behavior, and the revenue fallout from the COVID-19 pandemic, uncertainty is at an all-time high. To address this uncertainty, PMMC brought together four Managed Care experts. And we do mean experts – every panelist has had at least 25 years of experience. The panelists didn't hold back from addressing the real challenges our hospitals face today in terms of revenue and reimbursement. It was shocking to learn that from March 1 to April 15, hospitals were losing $1 Billion per day due to the drop in elective procedures during the height of the COVID-19 outbreak. In just one hour, we covered everything including how to handle this revenue loss with payers, the impact of the rise in telehealth, and how to use predictive analytics and scorecards to manage and predict all these shifting dynamics in reimbursement.
As people across the country have shifted to working from home due to the COVID-19 outbreak, hospital revenue cycle leaders are doing their best to maintain "business as usual" while recognizing that they face unique challenges. PMMC recently hosted a virtual roundtable with two revenue cycle leaders at AnMed Health (based in Anderson, SC) and The Shepherd Center (based in Atlanta, GA). Our goal was to provide a forum for revenue cycle leaders to share their challenges and best practices for managing a team remotely and keeping up with payer collections. With over 100 healthcare providers in attendance, Samantha Evans from AnMed Health and Sheila Morris from the Shepherd Center offered some great advice and really spoke to what revenue cycle leaders are going through during this difficult time. Below you will find background on our revenue cycle panelists and their responses to the roundtable questions.