PMMC Healthcare Revenue Cycle Blog
Stay up to date on best practices for healthcare revenue cycle management with PMMC's blog.
At a time where the healthcare industry is forced to adapt to new reimbursement models, providers are having a tough time adjusting to the contract negotiation process. Each reimbursement model comes with its own stipulations and understanding how to work with the payer to reach your organization's financial goals comes with its own set of challenges.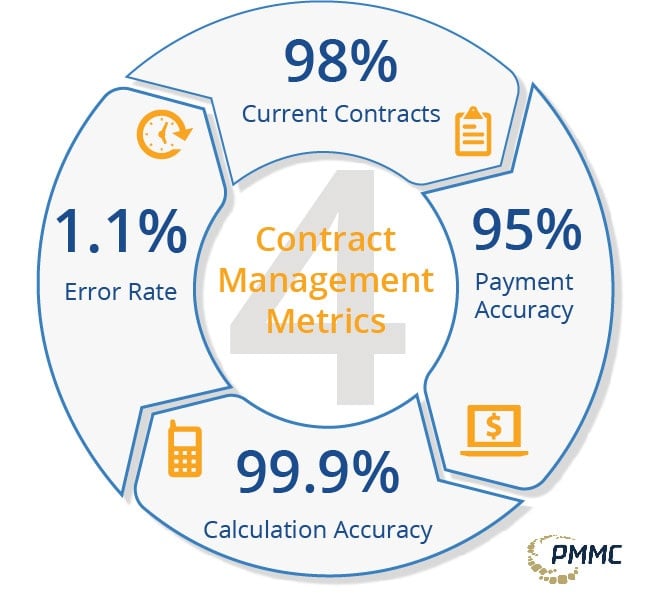 Key Metrics for Contract Management
The proper use of healthcare contract management software can make a difference of 2-3 percent net revenue. Thus, the proper use of a contract management system should be considered "mission critical," from a financial perspective, but it often does not receive the attention it deserves. This whitepaper explains how applying metrics to healthcare contract management helps assure all accounts receive appropriate attention, thus ensuring revenue integrity.
Every profession has its set of experts. In the health industry's managed care field, one of those experts is Susan Mego.
All across the modern day healthcare landscape in hospital and healthcare system boardrooms, the four main topics discussed on a regular basis by executive leadership are focused on these business issues:
For hospitals contemplating revenue cycle solutions, it's important to make sure your revenue cycle solutions aren't half-baked. Have you ever bought a bunch of ingredients and gadgets to duplicate what the pros make on a cooking show? They make it look easy…but it's not. There are nuanced skills with timing, technique, temperature, and other subtle variables related to sequence and presentation. Cooking shows are similar to industry consolidation; be it energy, automotive, or even healthcare. So, what do we get with consolidation?
This webinar has taught us a lot about a program in the healthcare industry commonly referred to as narrow networks. We learned about the pros and cons for adopting this type of system, the growing trend of employers offering this to their employees, and most importantly, the value of knowing the contracted terms before entering into these agreements. So, with that being said, what's the biggest piece of advice we can take away from this presentation?:
During our recent webinar session "Intro to Narrow Networks: What's the Impact on Healthcare Providers?" we polled healthcare providers on several topics around narrow networks.
Narrow Networks have become increasingly popular among providers looking to provide patients with a comparable quality of care at lower premiums. Here's a look at some stats showing its current success rate:
The path toward financial stability for healthcare organizations can be a bumpy road. Due to a surplus of big data, providers can utilize this information to search for any areas (aka. opportunities) where they can lower their costs by working together to create a solution that all parties can agree on. This process usually requires some give-and-take from both sides but the goal is to find new innovative means of lowering their costs, without sacrificing the quality of patient care.
Much of the rhetoric surrounding mandatory bundles has been negative and defensive – i.e. how do healthcare organizations deal with these programs to prevent risk and avoid financial penalties to CMS?