PMMC Healthcare Revenue Cycle Blog
Stay up to date on best practices for healthcare revenue cycle management with PMMC's blog.
What is the CMS Price Transparency Final Rule? In an effort to increase price transparency for consumers, CMS has updated its guidelines under the Final Rule CMS-1694-F (which is part of FY 2019 IPPS/LTCH PPS) that requires hospitals to post standard charges online in a machine readable format. This will be required for all hospitals beginning January 1, 2019.
During our recent webinar session "Denial Management Essentials: The Metrics and Reporting Tools You Need to increase Revenue" we polled healthcare providers on several topics around denial management.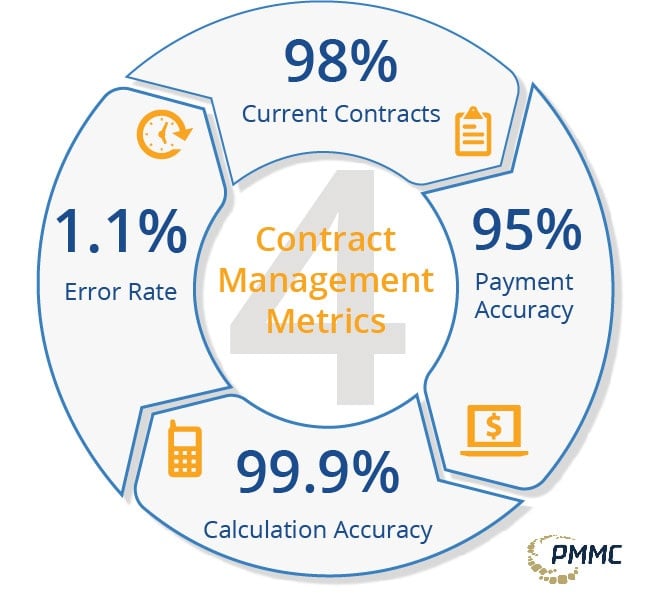 Key Metrics for Contract Management
The proper use of healthcare contract management software can make a difference of 2-3 percent net revenue. Thus, the proper use of a contract management system should be considered "mission critical," from a financial perspective, but it often does not receive the attention it deserves. This whitepaper explains how applying metrics to healthcare contract management helps assure all accounts receive appropriate attention, thus ensuring revenue integrity.
During our recent webinar session "Winning Strategies for Contracting in Narrow Networks" we polled healthcare providers on several topics around narrow networks. These questions provide insight as to how well your organization is prepared to manage narrow network negotiations. How would your healthcare organization answer these questions? Here's how the live webinar attendees responded… 1. Is your organization currently part of a narrow network?
At a time where the healthcare industry is forced to adapt to new reimbursement models, providers are having a tough time adjusting to the contract negotiation process. Each reimbursement model comes with its own stipulations and understanding how to work with the payer to reach your organization's financial goals comes with its own set of challenges.
Every profession has its set of experts. In the health industry's managed care field, one of those experts is Susan Mego.
All across the modern day healthcare landscape in hospital and healthcare system boardrooms, the four main topics discussed on a regular basis by executive leadership are focused on these business issues:
For hospitals contemplating revenue cycle solutions, it's important to make sure your revenue cycle solutions aren't half-baked. Have you ever bought a bunch of ingredients and gadgets to duplicate what the pros make on a cooking show? They make it look easy…but it's not. There are nuanced skills with timing, technique, temperature, and other subtle variables related to sequence and presentation. Cooking shows are similar to industry consolidation; be it energy, automotive, or even healthcare. So, what do we get with consolidation?
This webinar has taught us a lot about a program in the healthcare industry commonly referred to as narrow networks. We learned about the pros and cons for adopting this type of system, the growing trend of employers offering this to their employees, and most importantly, the value of knowing the contracted terms before entering into these agreements. So, with that being said, what's the biggest piece of advice we can take away from this presentation?:
During our recent webinar session "Intro to Narrow Networks: What's the Impact on Healthcare Providers?" we polled healthcare providers on several topics around narrow networks.