healthcare revenue cycle, revenue cycle blog, revenue cycle tips, revenue cycle information
PMMC Healthcare Revenue Cycle Blog
Stay up to date on best practices for healthcare revenue cycle management with PMMC's blog.
contract modeling | revenue cycle analytics
Insurers are swimming in data that gives them a steady stream of insights into their markets and the healthcare providers with whom they contract. Unfortunately, most providers don't have access to the same level of business intelligence. That lack of reliable information on payer performance puts healthcare organizations at a disadvantage.
As people across the country have shifted to working from home due to the COVID-19 outbreak, hospital revenue cycle leaders are doing their best to maintain "business as usual" while recognizing that they face unique challenges. PMMC recently hosted a virtual roundtable with two revenue cycle leaders at AnMed Health (based in Anderson, SC) and The Shepherd Center (based in Atlanta, GA). Our goal was to provide a forum for revenue cycle leaders to share their challenges and best practices for managing a team remotely and keeping up with payer collections. With over 100 healthcare providers in attendance, Samantha Evans from AnMed Health and Sheila Morris from the Shepherd Center offered some great advice and really spoke to what revenue cycle leaders are going through during this difficult time. Below you will find background on our revenue cycle panelists and their responses to the roundtable questions.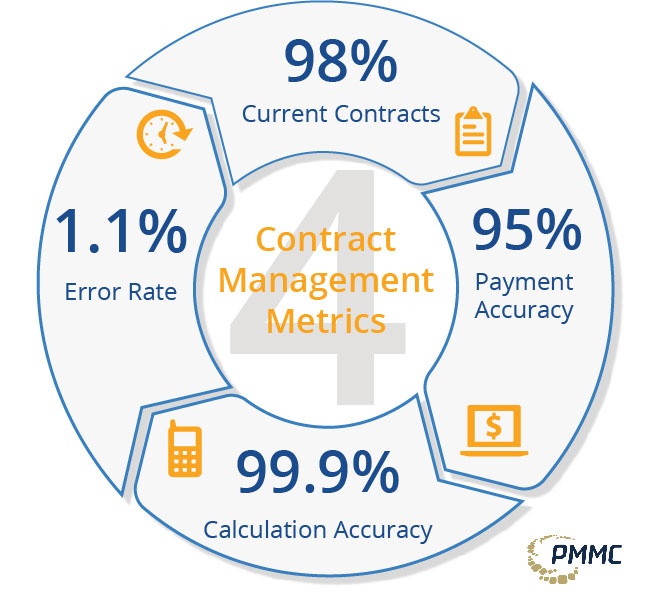 Key Metrics for Contract Management
The proper use of healthcare contract management software can make a difference of 2-3 percent net revenue. Thus, the proper use of a contract management system should be considered "mission critical," from a financial perspective, but it often does not receive the attention it deserves. This whitepaper explains how applying metrics to healthcare contract management helps assure all accounts receive appropriate attention, thus ensuring revenue integrity.
The healthcare revenue cycle is used by hospitals and health systems to manage all of the administrative and clinical data that comes into the hospital every day.
During our recent webinar session "Denial Management Essentials: The Metrics and Reporting Tools You Need to increase Revenue" we polled healthcare providers on several topics around denial management.
During our recent webinar session "Winning Strategies for Contracting in Narrow Networks" we polled healthcare providers on several topics around narrow networks. These questions provide insight as to how well your organization is prepared to manage narrow network negotiations. How would your healthcare organization answer these questions? Here's how the live webinar attendees responded… 1. Is your organization currently part of a narrow network?
This webinar has taught us a lot about a program in the healthcare industry commonly referred to as narrow networks. We learned about the pros and cons for adopting this type of system, the growing trend of employers offering this to their employees, and most importantly, the value of knowing the contracted terms before entering into these agreements. So, with that being said, what's the biggest piece of advice we can take away from this presentation?:
During our recent webinar session "Intro to Narrow Networks: What's the Impact on Healthcare Providers?" we polled healthcare providers on several topics around narrow networks.
The path toward financial stability for healthcare organizations can be a bumpy road. Due to a surplus of big data, providers can utilize this information to search for any areas (aka. opportunities) where they can lower their costs by working together to create a solution that all parties can agree on. This process usually requires some give-and-take from both sides but the goal is to find new innovative means of lowering their costs, without sacrificing the quality of patient care.
Click here for a 20 minute intro session to Narrow Networks.