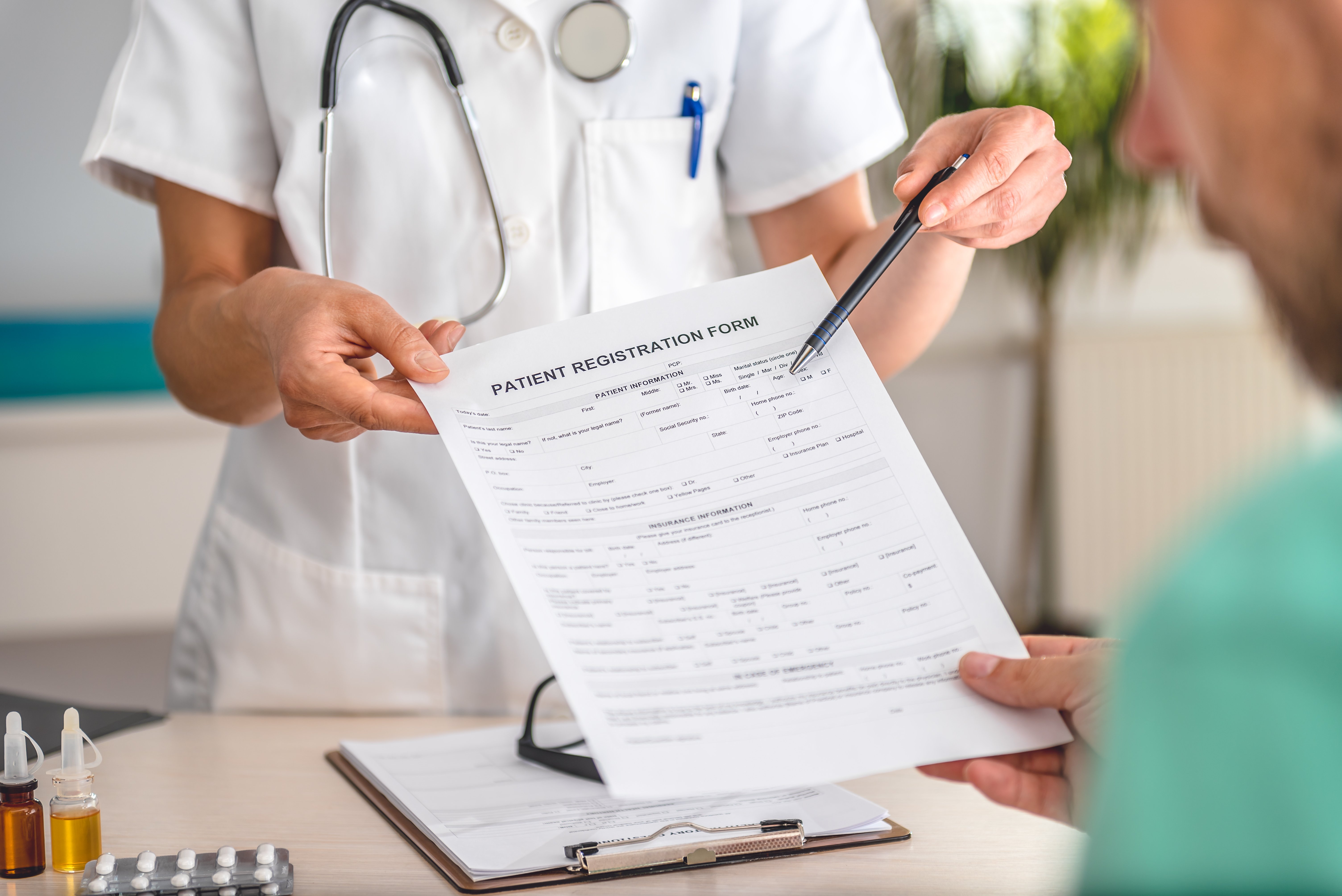 Subscribe
The 9 Steps of Healthcare Revenue Cycle Management Explained
The healthcare revenue cycle is used by hospitals and health systems to manage all of the administrative and clinical data that comes into the hospital every day.
Even for hospitals using the proper management software, this can be a very complex and arduous process involving a lot of data being threaded through multiple departments of the hospital. Therefore, ensuring you're getting the most accurate data is critical to successful management.
The healthcare revenue cycle is a process that involves executing all administrative and clinical functions that contribute to the capture, management, and collection of patient service data. In other words, it is a term used to refer to the entire life of a patient's account from registration to bill payment.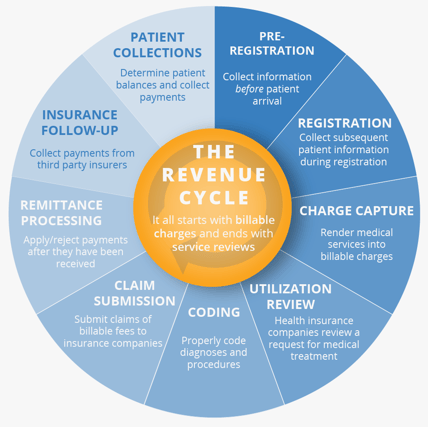 Within the revenue cycle is a list of specific responsibilities used to maintain order.
Here is a list of the basic functions of the revenue cycle that healthcare professionals use every day to grow and maintain their hospital's revenue stream:
1. Pre-Registration: Collecting information before the patient's arrival
This first step in the revenue cycle is crucial in the revenue cycle because it has the potential to provide massive financial benefits to both parties involved. From the patient's perspective, it not only saves time filling out the forms in the waiting room so they can see their doctor more quickly, but more importantly, it allows them to know their out-of-pocket costs ahead of time so they don't receive unexpected charges on their bill.
From the hospital's perspective, by allowing patients to see their expected out-of-pocket costs for a procedure, there's a higher likelihood that they will pay their bill on time, eliminating sources of bad debt for the hospitals.
Items that are usually included during the pre-registration portion are name of patient, demographic info, medical history, and insurance and payment information. This streamlines the process and can help to increase patient satisfaction.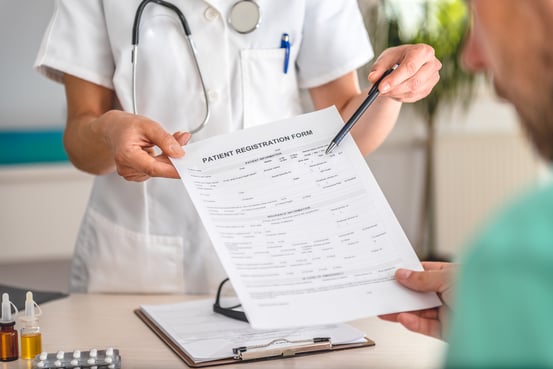 2) Registration: Collecting subsequent patient information during registration
This next step serves as a validation that all required patient registration information was already gathered during the pre-registration. If the hospital notices an error in the registration form filled out by the patient, this is the time to bring it to the patient's attention before the error snowballs into a much bigger issue.
This could cause a lengthy delay in hospitals receiving their reimbursement from the payers.
3) Charge Capture: Rendering medical services into billable charges
Here, charges are captured on the bill from the service and then submitted to the insurance provider. This step is crucial in ensuring that throughout the revenue cycle, hospitals will get fully reimbursed by the payers, a term often referred to in the industry as revenue integrity.
4) Utilization Review: Health insurance companies review a request for medical treatment
The purpose of the review is to confirm that the plan provides coverage for your medical services. It also helps the company minimize costs and determine if the recommended treatment is appropriate.
5) Coding: Properly coding diagnoses and procedures
Given the vast amount of health services and pharmaceuticals available at hospitals and health systems today, coding is needed to translate written descriptions of procedures, services, items and patient conditions into numeric or alphanumeric codes. While these codes are irrelevant to the patient, it helps hospitals produce a map to the procedure. Medical billers then use these codes to create insurance claims and bills for patients.
6) Claim Submission: Submitting claims of billable fees to insurance companies
After the health services have been coded into the management system, the next step requires hospitals to submit those claims to the insurance companies so that the payment can be processed according to the terms of the contract. If an error occurs and the claim is not sent to the insurance company properly (which can happen for a variety of reasons that will be explained later on), this can cause an extended delay in hospitals getting their reimbursed payment from the insurance companies.
7) Remittance Processing: Applying or rejecting payments after they have been received
In this step, hospital A/R staff analyzes the payment received by the insurance provider or payer to determine if the payment was approved or if there was an error causing the payment to be delayed.
Again, rejected payments often derive from errors in patient registration which gives even more reason to ensure that the data is correct and up-to-date. If an error is reported, the claim gets directed to the clearinghouse where they are in charge of reviewing and clearing the claim so it can be sent back to the payer for correct payment amount.
8) Insurance Follow-Up: Collect payments from the third-party insurers
Hospitals are now able to collect payment from the payers (commercial and governmental) according to the terms agreed upon during payer contract negotiations. The most common issues are underpayments, denials, and non-payments.
If hospitals aren't satisfied with the payer's reimbursement, they will most likely look to address and adjust those rates during the next set of payer negotiations.
9) Patient Collections: Determining patient balances and collect payments
This process involves monitoring accounts that are outstanding and pursuing payment of those balances from patients. As patient financial responsibility continues to increase due to high-deductible health plans, patient collections are becoming more critical to revenue.
According to RevCycleIntelligence, hospitals reported an 88 percent increase in revenue attributable to patient financial responsibility between 2012 and 2017.
In addition, hospitals have to be careful about how they present their pricing because if patients receive a bill that's higher than expected, it may take longer for the hospital to receive payment, forcing the provider to acquire more bad debt.
Solutions for Revenue Cycle Management
As healthcare revenue cycle management continues to evolve, it is the hospital's responsibility to maintain the highest level of patient-centric care by working as one unit. Each department must have their goals aligned to be firing on all cylinders.
This requires the contract data to be accurate and a clear path of communication that ensures hospital staff knows their role in maintaining the revenue cycle.
Learn how revenue cycle management solutions can increase your hospital's net revenue!