healthcare revenue cycle, revenue cycle blog, revenue cycle tips, revenue cycle information
PMMC Healthcare Revenue Cycle Blog
Stay up to date on best practices for healthcare revenue cycle management with PMMC's blog.
Every profession has its set of experts. In the health industry's managed care field, one of those experts is Susan Mego.
Due to complications with timing, the Centers for Medicare and Medicaid Services (CMS) has delayed implementation of the three new episodic payment models (EPM) and Cardiac Rehabilitation (CR) incentive program until January 1, 2018.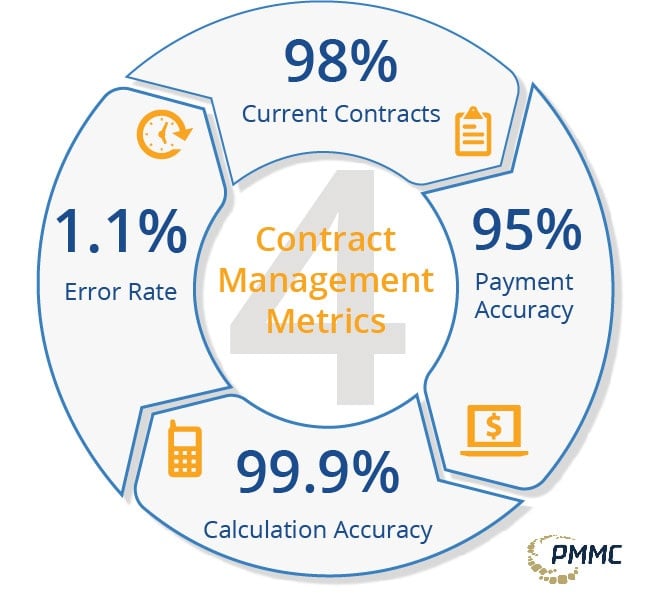 Key Metrics for Contract Management
The proper use of healthcare contract management software can make a difference of 2-3 percent net revenue. Thus, the proper use of a contract management system should be considered "mission critical," from a financial perspective, but it often does not receive the attention it deserves. This whitepaper explains how applying metrics to healthcare contract management helps assure all accounts receive appropriate attention, thus ensuring revenue integrity.
We're pleased to announce that PMMC has been selected by JFK Health, based in Edison, NJ, for bundled payment analytics to manage the costs for the Comprehensive Care for Joint Replacement (CJR) Model.
Be sure to join PMMC next Tuesday, October 18th for a webinar featuring The MetroHealth System, to learn how they are navigating price transparency requirements by offering online, self-service patient estimates.
We know revenue cycle teams are very busy and often managing competing priorities. So what are their top initiatives today? A recent survey of 93 senior healthcare finance executives provides some insight. According to the survey from Connance and Porter Research, senior healthcare finance executives are more likely to implement updated IT and hire additional staff than contract with outside consulting services in order to optimize revenue cycle workflows.
We're pleased to announce that PMMC has been selected by Cabell Huntington Hospital (CHH) for contract management and denial management.
One of our most forward thinking clients, The MetroHealth System (based in Cleveland, Ohio), will share its experiences with consumerism, price transparency, and patient financial communications during an HFMA webinar next Tuesday, August 30th.
Despite efforts to improve price transparency, 43 states received an "F" grade according to the Health Care Incentives Improvement Institute (HCI3 ) – Catalyst for Payment Reform (CPR) Report Card on State Price Transparency Laws.
Las Vegas is the place to be next week (June 26-29) for healthcare finance and the revenue cycle at the annual HFMA National Institute (ANI). PMMC will be front and center in the exhibit hall, so be sure to visit us at Booth 123.
It's a disadvantageous situation from the beginning: It's time to renegotiate payer contracts, but your hospital has a high volume of commercial contracts and payers are shifting to new reimbursement methodologies. Not to mention the contract language is open to interpretation.This is a situation Managed Care is placed in more and more often these days. These factors give leverage to commercial payers and make it difficult for hospitals to determine how the new contract terms impact net reimbursement revenue, especially when using tools like Microsoft Excel.