healthcare revenue cycle, revenue cycle blog, revenue cycle tips, revenue cycle information
PMMC Healthcare Revenue Cycle Blog
Stay up to date on best practices for healthcare revenue cycle management with PMMC's blog.
We would like to congratulate April Miller, Director of Contracting and Payor Relations at PMHA, as PMMC's Star of the Month!
We would like to congratulate Sheila Morris, Revenue Cycle Director at Shepherd Center as PMMC's Star of the Month!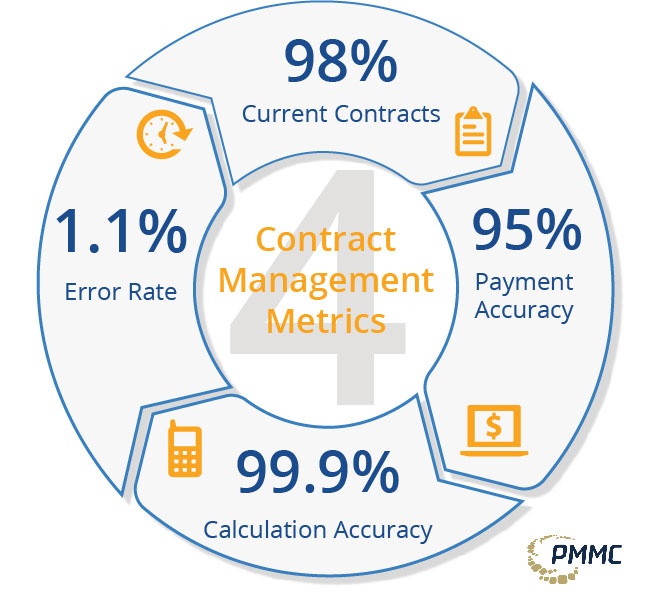 Key Metrics for Contract Management
The proper use of healthcare contract management software can make a difference of 2-3 percent net revenue. Thus, the proper use of a contract management system should be considered "mission critical," from a financial perspective, but it often does not receive the attention it deserves. This whitepaper explains how applying metrics to healthcare contract management helps assure all accounts receive appropriate attention, thus ensuring revenue integrity.
We would like to congratulate Sylvia Palomo,Payer Compliance Manager, Managed Care Contracting at Texas Children's Hospital as PMMC's Star of the Month!
We would like to congratulate Mary Bongiornio, Director of Admission and Financial Clearance at MetroHealth as PMMC's Star of the Month for January!
We would like to congratulate Gina Aiello, Chargemaster Specialist at Saratoga Hospital as PMMC's Star of the Month for November!
It's no secret that negotiating payer contracts has always been a challenge for healthcare providers. With the recent shift toward consumerism, changing patient behavior, and the revenue fallout from the COVID-19 pandemic, uncertainty is at an all-time high. To address this uncertainty, PMMC brought together four Managed Care experts. And we do mean experts – every panelist has had at least 25 years of experience. The panelists didn't hold back from addressing the real challenges our hospitals face today in terms of revenue and reimbursement. It was shocking to learn that from March 1 to April 15, hospitals were losing $1 Billion per day due to the drop in elective procedures during the height of the COVID-19 outbreak. In just one hour, we covered everything including how to handle this revenue loss with payers, the impact of the rise in telehealth, and how to use predictive analytics and scorecards to manage and predict all these shifting dynamics in reimbursement.
Every profession has its set of experts. In the health industry's managed care field, one of those experts is Susan Mego.
Due to complications with timing, the Centers for Medicare and Medicaid Services (CMS) has delayed implementation of the three new episodic payment models (EPM) and Cardiac Rehabilitation (CR) incentive program until January 1, 2018.
We're pleased to announce that PMMC has been selected by JFK Health, based in Edison, NJ, for bundled payment analytics to manage the costs for the Comprehensive Care for Joint Replacement (CJR) Model.
Be sure to join PMMC next Tuesday, October 18th for a webinar featuring The MetroHealth System, to learn how they are navigating price transparency requirements by offering online, self-service patient estimates.